Welcome back my dolls.
This is something I plan to do at least twice a month content dependant. Welcome to the first new music Monday on Kiss of Beth's!
I just want to thank every band that sends me their new music to review. To be able to listen to this stuff before you even release is incredibly humbling. I thank you for trusting me to review your musical babies. It means the world you trust my writing this much.
Obviously each of these new releases – if they are on Spotify –  will be added to the Kiss Of Beth's Reviewed playlist, which you can check out here.
Are you releasing something soon? Want it featured on new music Monday? Let me support you and give you a free review! Get in touch on my contact page here and let's get to chatting! (I've banged this on the bottom of the piece too!)
Today we have FIVE new releases to  review for you. We have Jaz Connell, Bloodhounds, The Taboos, Take Flight and Evert Outen. So let's get into it.
Evert Outen
Treatin' Me Right
Straight in with this high energy bop, recorded live at AJA studios. Outen serves me modern Jonny Cash with some bad ass Elvis thrown in for some good measure in this track.
This is the kind of song you could shoot whisky too whilst getting in an old school bar brawl. I am here for it. It's not my usual jam but I wont lie there is something about Outen's vocals that keeps on bringing me right on back for more.
Having seen him live before I am determined, more so after this bop, to go see him perform this slammer again. He's certainly bringing something to the table I don't see often.
I often get let down by live tracks, this is far from the truth with this total slammer. Now let me go find my hair brush so I can dance around my bathroom pretending to be Elvis to this ass shaking jam.
You can follow him on Facebook here, Instagram here and you can check out this new release on Spotify here.
Take Flight
Breathe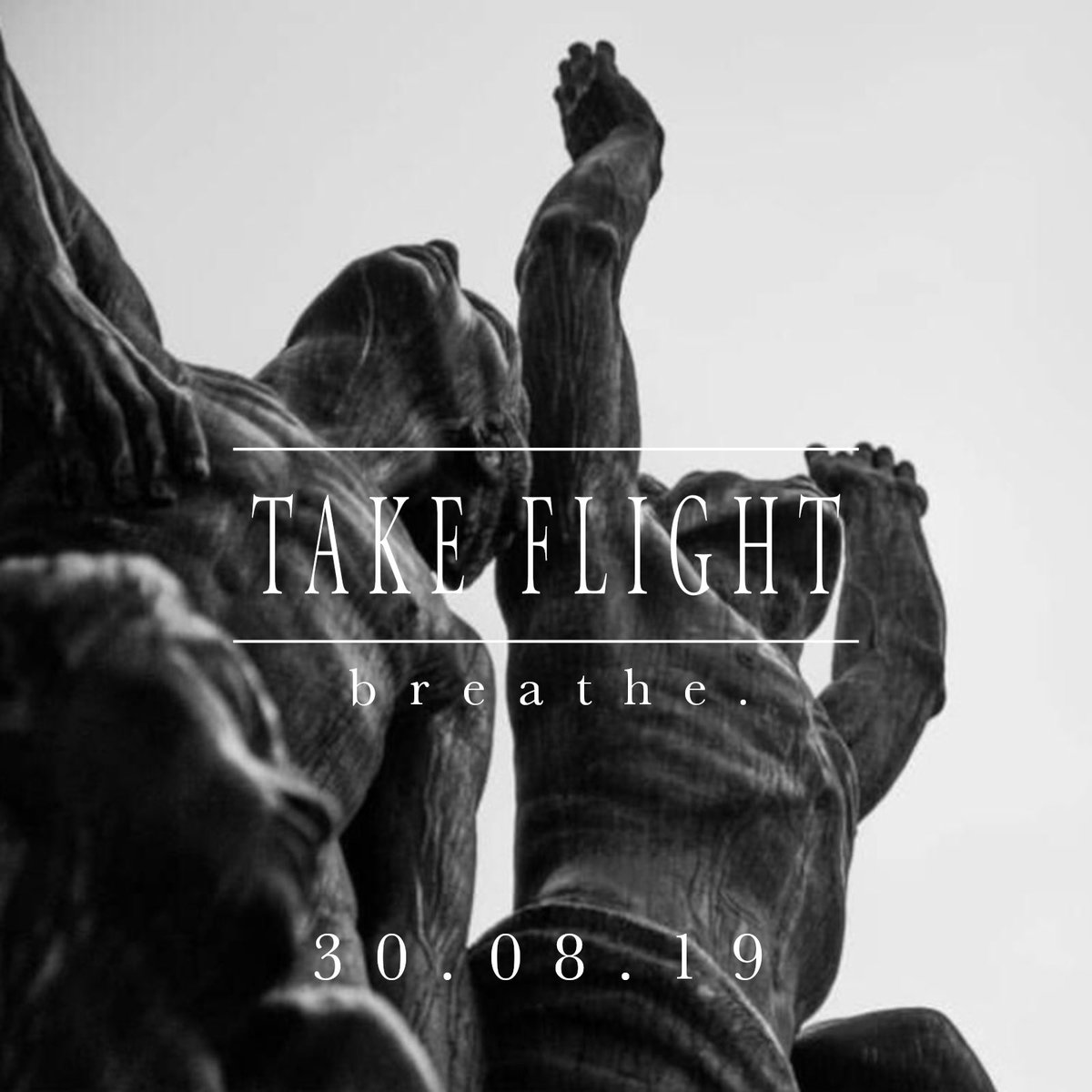 Finally. Do you know how long I have waited for Take flight to drop Breathe? Being a fan of anything coming from the most wonderful Zander Dale and Mikey Thomas; I was ready for them to hit me with something. Being a fan of their old band, I was waiting, panicking and hoping I wouldn't be let down by this release.
I'm happy to report, I'm stoked by this. Breathe is a breath of fresh air for the local scene. PUNNNSS. I am excited to see what is to come from this band. They excite me. They ignite a little juiced up flame inside of me. I'm looking forward to writing about this band in the future. I look forward to sitting at the back of a venue and experiencing Take Flight live.
Giving me that heavier metal vibe that I forever search for. Mixing that with Zander's flawless vocal talent; I see big things coming for these guys. From this release alone, I'm ready for a full EP.
I'm gunna pull up on the drums and vocals here. Yo, drummer for Take Flight; you're incredibly talented and I bow to you sir. You can be skippy that I'm going to keep a close eye on you at a live show. Now vocals, I have always been a fan of Zander's voice. Ranging back many years, he's always had a talent; however here – there is something hauntingly stunning about the way his voice is working. I'm here for it.
Also whoever is pulling off that cheeky guitar solo… my musical dick is hard.
You can follow them on Facebook here, Instagram here and you can check out this new release on Spotify here.
The Taboos
No Miracles
After having the honour of playing with these musical inamoratos, it was an honour to finally write about their new release No Miracles.
Having seen them live (even though they weren't present for our set.. still salty) I had high high expectations. Serving me better Arctic Monkeys – don't @ me – this is a tune I could certainly see myself cooking in the kitchen singing along too. This is the kinda tune you could imagine in a coming of age indie film. The one that is played during the opening scenes. I highly rate pretty much everything about this tune.
This incredibly talented band have raised the bar and I'm hoping whatever comes next only takes that bar higher. I have to say, they are a band that listening to them live as well as recorded they sound just as good. Their recorded music doesn't make them sound better than they are because of a bloody good producer.
I'm not going to lie, the vocals put a shiver up my spine. I don't know what it is about them but they really tickled my pickle.
This is another band I am excited to see what else comes out of. If their EP is as good as this release they will have me standing at the front of their next gig looking like I actually want to be there instead of my usual bitter face.
You can follow them on Facebook here, Instagram here and you can check out this new release on Spotify here.
Jaz Connell
Your Girl
Listening to this I feel like a proud parent. After her hit Footsteps, I was so excited to see what came next from country powerhouse Jaz Connell. It's safe to say she hasn't disappointed.
Hitting us with a vibe that takes us far away from her first release, you can see the development between this song and her last. I  have listened to it on repeat since Jaz sent it to me for review.
We all know I am not usually the country sort, but dammit I will be a country girl for Jaz.
I feel the sass Jaz gave us in this song. I'm here for the attitude and I'm here for the message of Your Girl. We also need to talk about how beautiful the video for this song is. Jaz serves cowgirl who is over your shit and I am here for it. My wig was snatched watching this.
If you like country or even fancy listening to something even a little out of your usual box, I beg you give this total hun a listen!
The video. Oh my gosh. The video. Jaz has slayed me once again in this video. She's so damn beautiful and she's chilling with a horse. A HORSE. Eurgh slaying me boo. You can check out the video here.
This woman is incredibly talented and I can see a bright and extensive future in the music world for this country singer.
You can find her on Facebook here, Instagram here and check out her new release on Spotify here.
I honestly cannot wait to see this girl perform live, I'll be front and centre cheering her on.
Bloodhounds
Imminent Funk
Oh. My darlings over in Bloodhounds.
Sat here listening to Imminent Funk, I have to say I am incredibly proud.
These boys just go from strength to strength. I was sat waiting and wishing they would release something. The news of Imminent Funk dropped. I was waiting like a kid for Christmas.
Having the Bloodhounds as friends of the blog, I was sent this as it dropped. Dammit boys, you know how to throw a track. I think this is honestly one of the best releases I have ever heard.
Thats right. Ever. One of the best releases I have ever heard. Honest to god these boy's are so fucking talented. When I heard them first time, I was like ok – they are good, I could listen to these guys again.
Now I am sat here like. Give me a fucking album. Give me a fucking album now. Stop making me wait and give me a whole 15 track album thank you very much. I want to download it. I want to stream it. I want to play it over and over whilst sitting in traffic forcing other drivers to listen also. I want all the merch… hell at this point I want a Bloodhounds tattoo.
Bloodhounds after this release for me, are up on my god tier of local bands; sat with only a few others. Imminent straight up slaps. From insane drumming, sick guitars all the way over to Joey's slamming vocals; there is nothing I don't enjoy about this band. Fuck if you have the chance to go see them live, do it. Drive, swim, train, fly… what ever you need to do. See these guys at least once in your life.
You know what, Bloodhounds… I might be in love with you. I'm not sorry about it.
You can follow them on Facebook here, Instagram here and you can check out this new release on Spotify here.
Well guys! That was the first new music Monday!
Are you releasing something soon? Want it featured on new music Monday? Get in touch on my contact page here and let's get to chatting! Let me support you, yo!