Welcome back home slices.
Today I'm talking about  Ashnikko and her recent release Special.  Now if you don't know Ashnikko, you fucking should. This fierce and ground breaking warrior of female sexuality has been on my radar since her colab with GIRLI.
With each release Ashnikko has gone from strength to strength. She is someone who I will continue to follow closely, there is something about how effortlessly cool and progressive she is not only within her music but her views on life.
I may be a little bias, because I have to admit; she is some what of an idol for me. Everything I wish I could be, portraying the energy and confidence I could only dream of having. She is one person I would be utterly too shy to speak to if we ever went for a beer because, you know, I'd be star struck.
Anyway, let's get into the actual piece I am trying to write and not just some weird creepy fangirl piece.
So if you haven't heard the tune, here it is;
"You're not special, it's not cute
Only one strike, then you get the boot
There was potential in you
You should get "fuckboy" tattooed"
The first time I heard this song I was fucking floored. My wig was fucking snatched. This song was the tune I wish I had when I was younger and started dropping my links when I worked out they weren't worth shit. There is nothing about this song that I don't like. Once again this fucking bad ass smashes it out the park. My question is, how are you gunna top this Ashnikko?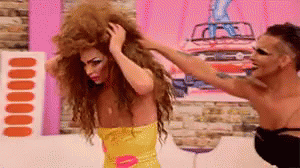 You know that moment where you've been hooking up with someone and you actually come to your senses and realise, this person is using me just for sex. We have all been there. You see something in them, you see their potential, but alas they use you for one thing.
When that person looses their hold on you and you come to your senses, you do just kind of go; hang on a second… what do I actually get out of this? Mediocre sex and a dude who bolt's out the door the second you're done. Yeah, I'm good, but thanks though!
"You wish, you wish I missed you
Back the fuck up, I dismiss you
You better stock up on tissues
Jacking off to all my pictures"
Even when you sack off the person you were sleeping with, up they come in your DMs asking if you're up. I don't miss you trying to hit this like you know what you're doing sweetie. Enjoy the nudes you have sweetheart because that's as close as you're going to get again. They just become a part of your past and you leave their asses on read because you're done.
Now as for this video, so beautifully done. Switching the usual roles and putting Ashnikko in the seat where the male rapper would usually sit. Each person perfectly styled to bad ass levels, there is nothing to not like about this. If I could get away with wearing that full black outfit everyday, I 1000% would.
I also need to know where that diamond decanter came from. A girl needs that up in her life without a doubt.
This song is one for when you realise just how much of a bad ass you actually are.
You can check out Ashnikko on Instagram here, Twitter here, Facebook here and Spotify here. I suggest you do, she slays. Of course she has now been banged on the Kiss of Beths reviewed Spotify playlist, which you can follow here.
"Eat my pussy like it's lunch"